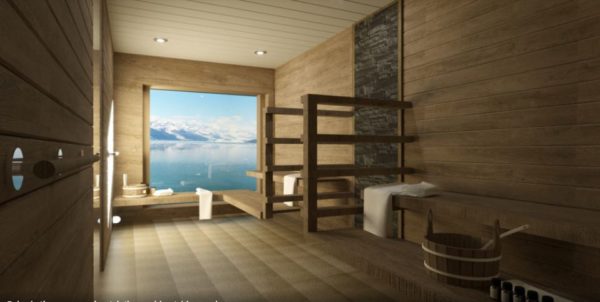 The brand new ship, Sylvia Earle honours the highly accomplished marine biologist, oceanographer and explorer, Sylvia Earle. As the first female chief scientist of the U.S. National Oceanic and Atmospheric Administration, and named by Time Magazine as its first Hero for the Planet in 1998 – this vessel pays tribute to Sylvia's long standing conservation efforts for marine protected areas and ocean wildlife.
Crossing the notorious Drake Passage, these expeditions face some of the most intense conditions nature can throw at you. The Sylvia Earle is at the cutting edge of nautical technology: robust, powerful and up to the task. Drawing on centuries of collective experience to map out the Sylvia Earle it is purpose-built for expeditions to the most remote places on earth. Featuring the revolutionary Ulstein X-BOW, this allows the ship to cross oceans more comfortably and efficiently, and with expansive observation decks to bring you closer to the environment, inviting communal areas and unsurpassed environmental credentials, this ship offers the perfect base camp for adventures at the outer limits of human exploration.
Accommodating an average of 132 expeditioners per voyage within 70 cosy, comfortable cabins. The ship also features a modern lecture lounge, multiple observation areas, zodiac launching platforms, a restaurant serving excellent meals, a wellness centre, jacuzzis, a mudroom and many other amenities. In between landings, enjoy our heated saltwater open air swimming pool or our jacuzzis and watch the world go by, and experience our gym, sauna or enjoy a massage in the Wellness Centre.r.
Unsure if the Sylvia Earle ship is right for you? Review our Antarctica destination overview for full details on seasonality, routes, ship selection, pricing, expedition inclusions and how North South Voyages can help make your Antarctica dream become reality.