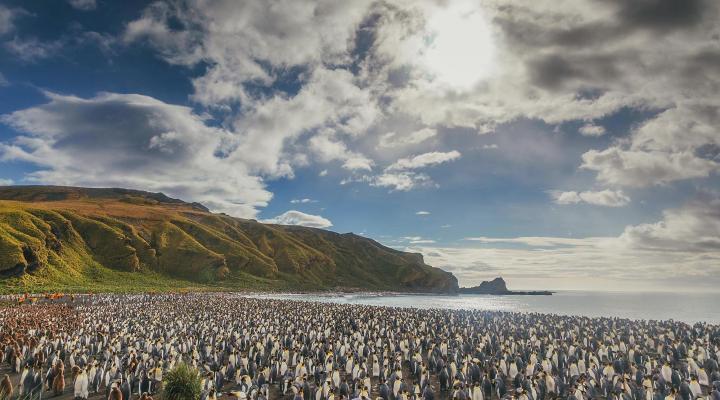 Our Epic Antarctica Crossing the Circle: Falklands & South Georgia voyage is called so for a reason—it includes all of the major Antarctic highlights you can imagine. From the Falkland Islands (Islas Malvinas) to South Georgia to the Antarctic Peninsula, you will have countless unforgettable moments on this adventure-packed, 23-day voyage.
Start with the Falklands, reminiscent of both sandy Cape Cod and the English moors, home to albatross, dolphins, and five species of penguins. From there, venture to South Georgia where you'll enter the home of 300,000 breeding king penguins, 50 million other seabirds and 5 million seals, an out of this world viewing. Then, explore the stunning Antarctic Peninsula, and finally cross the Antarctic Circle—a significant milestone for any world traveler.
This itinerary is with Quark Expeditions, a company which operates more ships in the polar regions than any other operator. Their vessels, which are optimised for polar travel, range from 128 to 199 passengers and provide an excellent home base for your polar exploration.
Their fleet features strengthened hulls for superior navigation in ice-packed polar waters and boast exceptional levels of comfort and services. From the brand new 5* Ultramarine, to their refurbished and comfortable 3* ship the Ocean Adventurer or the 4* World Explorer – Quark will ensure your Antarctica adventure is memorable.
Unsure if this Epic Antarctica Crossing the Circle: Falklands & South Georgia itinerary is right for you? Review our Antarctica destination page for full details on seasonality, routes, ship selection, pricing, expedition inclusions and how North South Voyages can help make your Antarctica dream become reality.