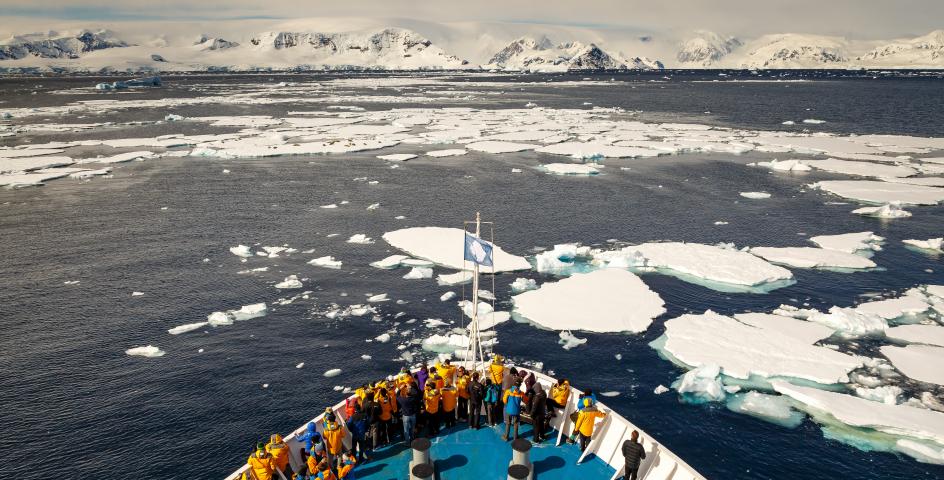 This South Georgia & Antarctic Peninsula – Penguin Safari itinerary is the fastest way to get to the seldom visited South Georgia Island while also setting foot on the 7th continent. As you set sail, photograph massive albatross and beautiful pintado petrels as they swoop and soar around the ship, guiding us toward this fabled island. Beaches teeming with king penguins and elephant seals will greet you upon arrival, where you'll pay respect to famed explorer Sir Ernest Shackleton.
Antarctica awaits, with its soaring peaks and staggering expanse. Go further into the Antarctic sea on a Zodiac, experience the rugged peninsula from a sea kayak, undertake an exhilarating hike up a sparkling glacier, or share an endearingly comical moment with an inquisitive gentoo, chinstrap and Adélie penguin. In these ways and countless others, Antarctica will amaze, surprise and delight.
This itinerary is with Quark Expeditions, a company which operates more ships in the polar regions than any other operator. Their vessels, which are optimised for polar travel, range from 128 to 199 passengers and provide an excellent home base for your polar exploration.
Their fleet features strengthened hulls for superior navigation in ice-packed polar waters and boast exceptional levels of comfort and services. From the brand new 5* Ultramarine, to their refurbished and comfortable 3* ships the Ocean Adventurer and Ocean Diamond, or the 4* World Explorer – Quark will ensure your Antarctica adventure is memorable.
Unsure if this South Georgia & Antarctic Peninsula – Penguin Safari itinerary is right for you? Review our Antarctica destination page for full details on seasonality, routes, ship selection, pricing, expedition inclusions and how North South Voyages can help make your Antarctica dream become reality.