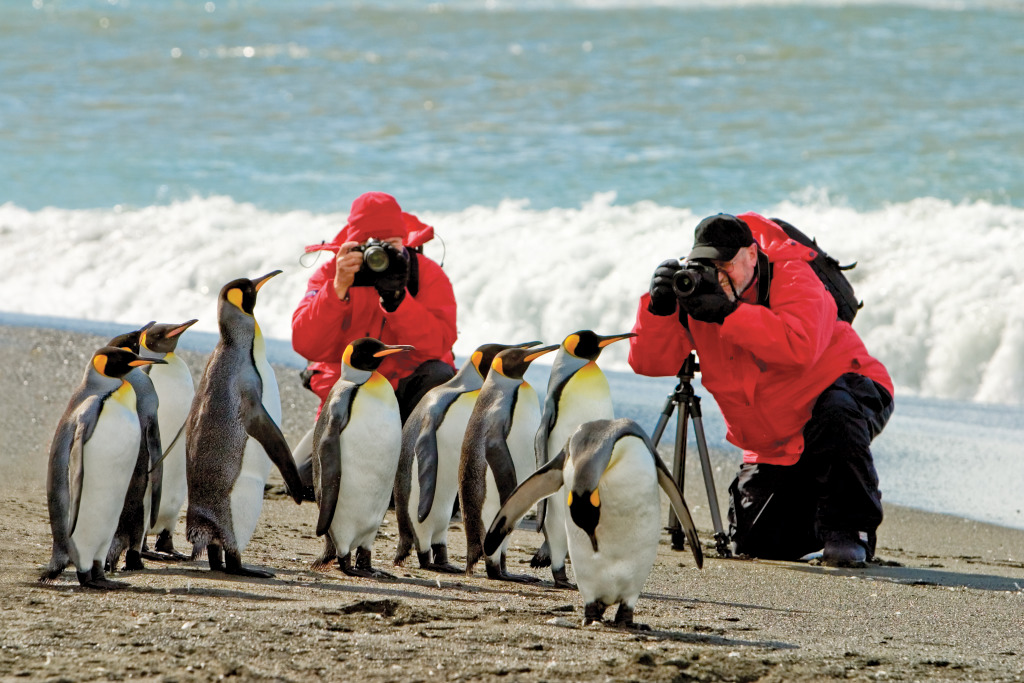 This Nat Geo Antarctica South Georgia & Falklands voyage has it all: the impossible beauty of the Antarctic ice, the vast king penguin colonies of South Georgia, and the Falklands' amazing albatross colonies. Not even the mass migrations of Africa can rival the awesomeness of seeing a king penguin colony of tens of thousands individuals stretching as far as the eye can see.
You'll have other rare sightings here too: massive, in both senses of the word, herds of elephant seals: and a wandering albatross stretching its 3.3 metre wings. Trace the story of Sir Ernest Shackleton's fateful journey in 1914, toast his gravesite in South Georgia and create incredible images of the ice and vast penguin colonies with help from a National Geographic photographer. It's the impossible beauty of an Antarctica trip exponentially increased by unimaginable numbers of animals. For most travelers, visiting Antarctica is a once-in-a-lifetime experience. So for those with the luxury of time, including the Falklands and South Georgia just makes sense. And it makes for a genuine experience of a lifetime.
This expedition is with National Geographic and Lindblad expeditions on board the comfortable Explorer or the brand new luxury Endurance or Resolution. Lindblad Expeditions-National Geographic have joined forces to further inspire the world through expedition travel. This collaboration in exploration, research, technology, and conservation provides extraordinary travel experiences and disseminates geographic knowledge around the globe. Thanks to this alliance, you can sail aboard the National Geographic fleet to the planet's most extraordinary places in the company of world-renowned scientists, naturalists, educators, and researchers, and explore stunning natural environments alongside skilled specialists using state-of-the-art exploration tools.
Unsure if this Nat Geo Antarctica South Georgia & Falklands itinerary is right for you? Review our Antarctica destination overview for full details on seasonality, routes, ship selection, pricing, expedition inclusions and how North South Voyages can help make your Antarctica dream become reality.