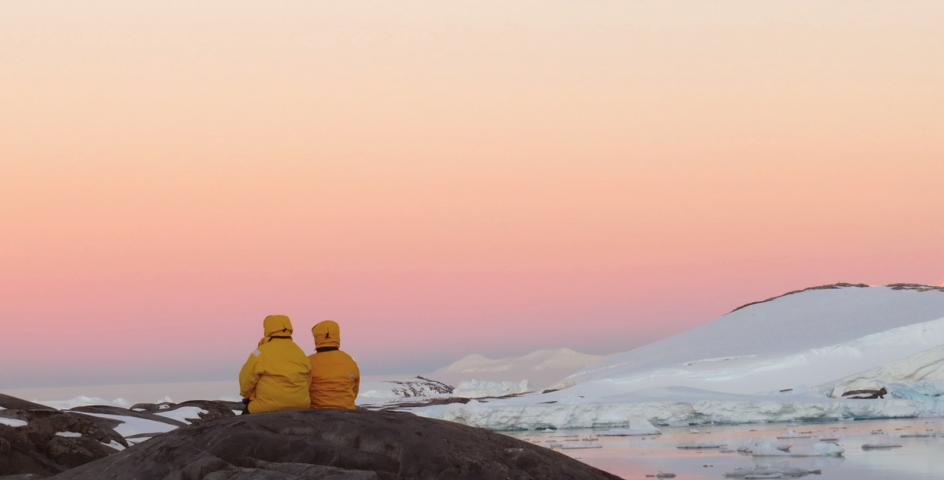 With this Crossing the Circle: Southern Expedition voyage, setting foot on the 7th Continent is a polar achievement relatively few people experience in their lifetime. Even more rare is the incomparable milestone that's achieved when a traveler crosses the iconic Antarctic Circle. Navigating south of 66°33′ S is—for most guests—the highlight of this voyage, which rewards passengers daily with views of dramatic ice formations, humpback whales swimming alongside the ship, leopard seals diving beneath your Zodiac, penguins sliding off icebergs into crystal waters, or giant petrels soaring above the crackling sea.
This itinerary is with Quark Expeditions, a company which operates more ships in the polar regions than any other operator. Their vessels, which are optimised for polar travel, range from 128 to 199 passengers and provide an excellent home base for your polar exploration.
Their fleet features strengthened hulls for superior navigation in ice-packed polar waters and boast exceptional levels of comfort and services. From the brand new 5* Ultramarine, to their refurbished and comfortable 3* ship the Ocean Adventurer or the 4* World Explorer – Quark will ensure your Antarctica adventure is memorable.
Unsure if this Crossing the Circle: Southern Expedition itinerary is right for you? Review our Antarctica destination page for full details on seasonality, routes, ship selection, pricing, expedition inclusions and how North South Voyages can help make your Antarctica dream become reality.