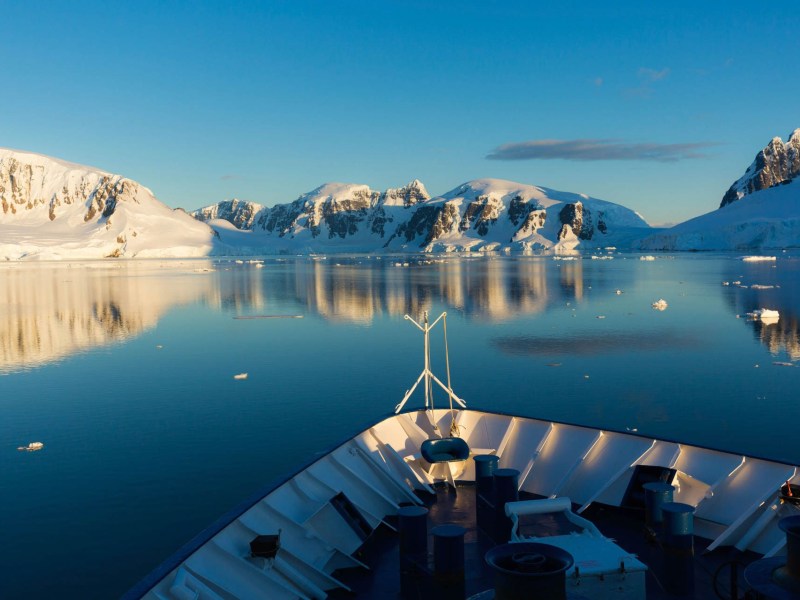 Discover this Antarctica & South Georgia Air-Cruise, a remarkable experience through the Antarctic Peninsula, Elephant Island & South Georgia. The expedition sails through nutrient-rich waters and, each day disembarks with expert guides to either hike, snowshoe, or kayak nearby. As the expedition heads to South Georgia, follow in the footsteps of famous Antarctic explorers, like Ernest Shackleton, and learn about their daring southerly adventures. After reaching South Georgia, visit some of the largest king penguin colonies in the world and see the nesting grounds of thousands of albatrosses.
This itinerary is operated by Antarctica21, a Chilean based expedition company who pioneered air-cruise expeditions to Antarctica. They understand all the complexities of ensuring a smooth, safe, enjoyable Antarctica adventure with an expert team who knows the region's unique geography, natural history, wildlife, and ecology. The expedition company was founded in Punta Arenas, the traditional gateway for the first Antarctic explorers, and it remains an ideal base of operations as they respond to the region's changing conditions, constantly refining and enhancing their unique Air-Cruise trips.
As a leading boutique Antarctic tour operator, Antarctica21is constantly striving to innovate and develop environmentally-responsible expeditions to the White Continent. No matter which small ship your Air Cruise includes – their newest ship the 4* Magellan Explorer, the Hebridean Sky, or the Ocean Nova – you will be on some of the smallest expedition ships that explore Antarctica with incredibly personalised service.
Unsure if this Antarctica & South Georgia Air-Cruise itinerary is right for you? Read our Antarctica destination overview for full details on seasonality, routes, ship selection, pricing, expedition inclusions and how North South Voyages can help make your Antarctica dream become reality.