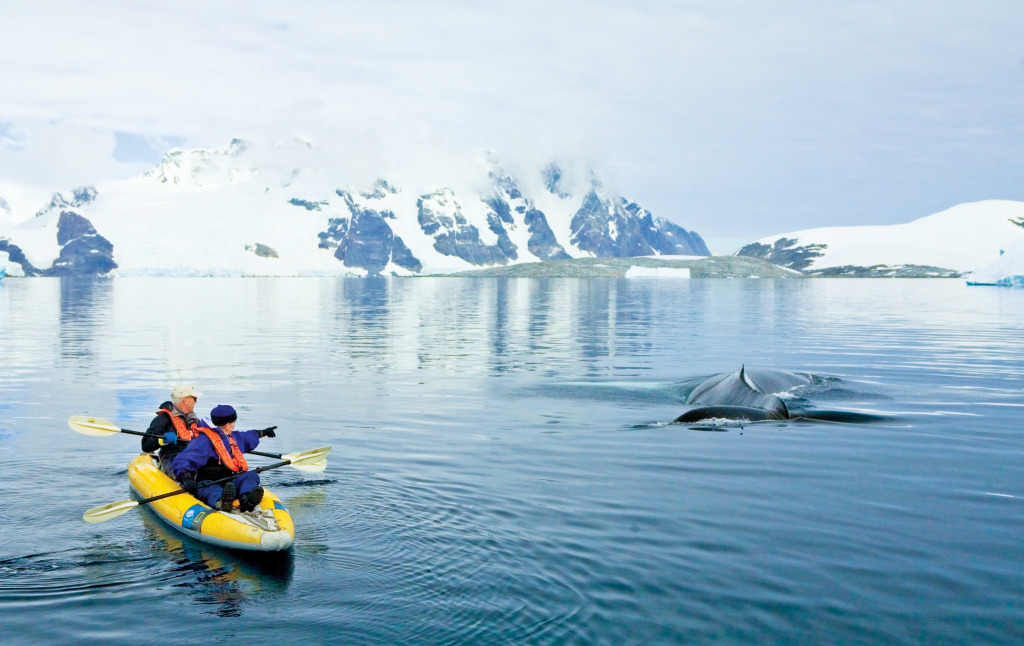 Voyage along the southernmost realms of the planet are places of unimaginable beauty on this National Geographic Antarctica & Patagonia: Legendary Ice & Epic Fjords Humpback whales breach and penguins gather by the thousands. Icebergs shimmer and sapphire-hued fjords harbor snowcapped peaks and virgin forests. Climb aboard an odyssey that combines the celebrated wonders of the Antarctic Peninsula, southern Patagonia, and the Chilean fjords—all in a single epic voyage.
Follow in the wake of legendary explorers like Ernest Shackleton and Ferdinand Magellan to encounter otherworldly icescapes and calving glaciers, remote reserves and pristine parks, and the incredible creatures that thrive at the edge of the world. Navigate Chile's coastal fjords and explore spectacular Glacier Alley, where monumental glaciers calve into the sea. Hike among the snowcapped "horns" of Torres del Paine National Park before seeking out Antarctica's iconic wildlife—including penguins, seals, and killer whales.
This expedition is with National Geographic and Lindblad expeditions on board the comfortable Explorer or the brand new luxury Endurance or Resolution. Lindblad Expeditions-National Geographic have joined forces to further inspire the world through expedition travel. This collaboration in exploration, research, technology, and conservation provides extraordinary travel experiences and disseminates geographic knowledge around the globe. Thanks to this alliance, you can sail aboard the National Geographic fleet to the planet's most extraordinary places in the company of world-renowned scientists, naturalists, educators, and researchers, and explore stunning natural environments alongside skilled specialists using state-of-the-art exploration tools.
Unsure if this Antarctica & Patagonia: Legendary Ice & Epic Fjords itinerary is right for you? Review our Antarctica destination overview for full details on seasonality, routes, ship selection, pricing, expedition inclusions and how North South Voyages can help make your Antarctica dream become reality.